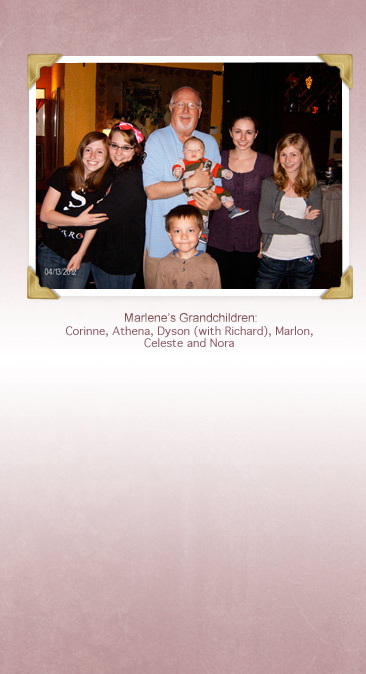 Marlene's Story
Marlene Dee Friedman was born on October 12, 1941 in Omaha, Nebraska to Rose and David Friedman. She had three siblings, Lester (who passed away when Marlene was in college), Felicia and Harry. Graduating from Omaha Central High School in 1959, Marlene left Nebraska to attend the University of Missouri in Columbia and completed her teaching degree in 1963.
Marlene returned to Omaha following graduation and taught elementary education until 1964 when she met and married Richard Landy, a dental student at the University of Missouri at Kansas City. She then resumed her teaching career in Kansas City.
In 1966, Richard was stationed in the U.S. Army in Ft. Huachuca, Arizona as a dentist and Marlene, of course, joined him. While there, she continued to teach elementary school until her first child, Brian, was born in 1968. It was shortly thereafter that the Landy family decided to relocate to Denver, Colorado.
The Landys had two more children once settled in Denver – Ellen and Matthew. Marlene spent the next number of years raising her family, teaching part time and volunteering for CARIH, the Children's Asthmatic Research Institute and Hospital (later absorbed by the world-renowned National Jewish Hospital.)
In Spring of 2000, Marlene was diagnosed with breast cancer and underwent surgery and chemotherapy for her disease. However, by Fall of 2001, the disease had metastasized to her liver.
The next three years, Marlene fought a valiant battle against her cancer. She traveled to Texas, California, Illinois and Arizona to undergo extensive surgeries and chemotherapy treatment. Although at times it seemed that she was in remission, the cancer always returned.
Aside from her unwavering dedication to recovering from cancer, Marlene's family was her main focus during her last years. She spent as much time as possible with her children and her four granddaughters – Athena, Celeste, Corinne and Nora. Unfortunately, Marlene's struggle with cancer came to an end on August 22, 2004, a year before the birth of her fifth grandchild and namesake, Marlon.
In October, 2008, Marlene's family established a 501(c)(3) nonprofit corporation in her memory, with the mission of assisting individuals stricken with this dreadful and deadly disease and supporting their families. The Marlene F. Landy Cancer Foundation helps families in their struggle to cope with cancer through financial assistance and health education specific to "living with cancer."